______
[separator headline="h2″ title="Heads"]
[separator headline="h2″ title="Rosettes"]
[separator headline="h2″ title="Backs"]
The following are audio samples which you can click to play. Please allow time to load.
[one_third]'Danza Ritual'
Manuel de Falla, performed by Duo Kupinski

on a Grand Concert II Guitar
 [/one_third] [one_third]'Lullaby'
Composed and performed by Arne Brattland
on  a Series One guitar.
[/one_third] [one_third_last]'Karleks Valse' (excerpt)
Ulrik Neumann, played by Arne Brattland
on a Grand Concert guitar.
[/one_third_last]
The following audio samples are provided courtesy of Duo Kupinski
 [hr style="3″ margin="40px 0px 40px 0px"]
Please note that recordings have been made at different times and in varying recording environments. Therefore, it is difficult to accurately portray the true sound of the guitar in order to make a direct comparison. Nevertheless, I hope that these recordings give some idea of the sound quality of the guitars.
[hr style="3″ margin="40px 0px 40px 0px"]
Music Track Information and Credits
A big thanks to Ewa and Dariusz for allowing me to use excerpts from their new video. For further details please visit www.kupinskiguitarduo.com 
Many thanks to Giulio Tampalini for allowing me to use his video. For more information, please visit www.giuliotampalini.it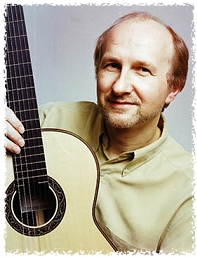 Warm thanks to Arne Brattland for kindly allowing his work to be published on this website.
Tracks (Arctic Suite) recorded in St. Martins Church, East Woodhay, England 1996-1997. Recordings sponsored by Norsk kassettavgifsfond, Nordnorsk kulturrad and Rana commune.
 The guitar used in Arne Brattland's recordings is a Series One Model.
'Lullaby' (Vuggesang, © Arne Brattland, 1987) Original track converted to MP3 by the UK Trading Sound Studio. Other Demonstration tracks are also taken from Arne Brattland's 'Arctic Suite' CD (ARCD 1997-003).

[hr style="3″ margin="40px 0px 40px 0px"]
From Prices
Prices
(based on standard timbers and fittings)
For simplified reference, models are referred to as being close in shape to either Hauser or Torres (S.E.43).
---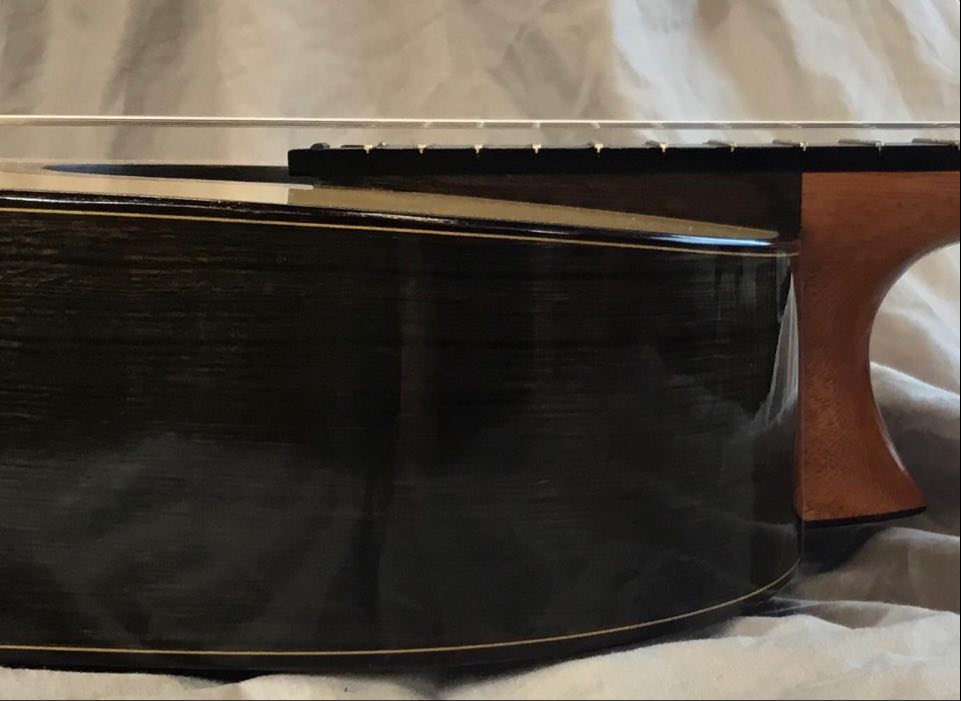 This picture shows the top curve
that is available as an option for the
GC 4.2 and GC 4.5 models.
---
Model      

                                           

Body      

              

GBP  

  

………………………

GBP
Series II
Hauser
5200
GC (lattice braced)
Hauser
5500
GCII [with curve] (lattice braced)
Hauser
6100
GCIII (lattice braced)
Torres
5500
GC 4.2
Hauser or Torres
5500
With top curve
6100
GC 4.5
Hauser or Torres
5500
With top curve
6100
Not included in the price is shipping cost or any possible duty demanded by the port of arrival if sent outside of the UK. There is no VAT within the UK.
Please note that the prices shown above are based on "standard" timbers and fittings, please enquire for more detailed information.
The actual details of the guitar that I build for you would most likely be customised based on your specific requirements, personal preferences, playing style and technique. I do stock a variety of seasoned timber species, some of which carry a surcharge due to their rarity.
To place an order I require an initial deposit of £300 (please note that this deposit is non-refundable and non-transferable) and a second installment of £700 once I begin work on your instrument.  Initial deposits can be made through Paypal or by Bank transfer. Please call me or e-mail me at woodfieldguitars@hotmail.co.uk for details.